Create Site Map Automatically

If you have your own website you can use FreeFind to generate a sitemap for it. Site maps allow your visitors to see an concise overview of your site and jump to the desired location easily.

Site maps are a great resource for your site's visitors, but until now they have been hard to maintain, requiring frequent updates as other parts of your website change. Now FreeFind can automatically generate a site map, and automatically update it each time your site changes. FreeFind's site-map software is hosted on our servers so there's nothing to download or install. Choose from three different styles of site-map, or use them all!

Automatic sitemap generation

(for webmasters and web designers only)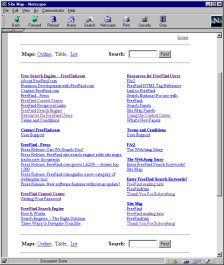 FreeFind's site map creator is integrated with our site search technology and can be used together with our search engine, or separately without the use of our search engine.
It's easy to generate your site map using FreeFind. Just sign up for the FreeFind service (your choice a free or subscription account). Then drop by our control center and send our spider to index your site. As we create your index we will also create three types of site maps for your site. These maps can be customized using the FreeFind control center. The HTML needed to link to your sitemap is also available in the control center.
Sign-up for FreeFind using the form below and get:
automatic sitemap creation
a search engine for your website
Get it now!
Your password and setup instructions will be e-mailed to you automatically.

Already have a FreeFind account?
Account holders can get their site map link from the HTML page in the control center
Questions? Check the Site Map FAQ.